The Legend of Jack Daniel
Jasper Newton "Jack" Daniel was a brilliant marketer and a man shrouded in myth. The legend of Jack Daniel stretches back to the moment he was born – unfortunately no one knows exactly when that was, but dates range from 1846-1850. According to his record Jack was born in 1846 but his tombstone lists 1850. Jack had a difficult lifestyle growing up, the youngest of 10 kids and the death of his mother when he was a baby, saw his father marrying a stepmother who had no love for Jack.
At the age of 16 he ran away from home and was taken in by a local preacher Dan Call. It was with Reverend Call that Jack would learn the art of distilling and began the famous Jack Daniels Tennessee Whiskey business. While many records attribute Jacks knowledge of distilling to the preacher, it was one of Reverend Call's slaves, Nathan 'Nearest' Green who worked side by side with Jack and taught him, what would become his life's passion.
Jack Daniels is the oldest distillery in the U.S, celebrating its 150 th anniversary in 2016. However, there is a question on when the distillery was founded. While Jack Daniels website states 1866, registration documents submitted to the Tennessee government suggest closer to 1875.
Knowing that if people remembered him, they would remember his whiskey, Jack who was only 5'2" was never seen without his 'uniform' of a formal knee-length coat, vest, tie and wide-brim planters' hat. It was this spirit that led to the presentation of his whiskey.
As one of the first sellers to etch his distillery name into the glass, he switched to the square bottle in 1895, knowing it made him stand out, was easy to transport with less breakages and helped promote him as a 'square' dealer who valued honest work and high standards. In 1904, Jack won his first gold medal for World's Best Whiskey at the World's Fair in St Louis, Missouri for the Old No. 7 with the square bottles a standout against the other spirits entered.
Unfortunately, Jack met an early death in a legend still told today – by kicking the old safe. Never being able to remember the code, he grew frustrated and kicked the safe as hard as he could injuring his foot which later led to blood poisoning, gangrene and amputation. Unfortunately, amputation didn't save him, and he died in 1907. The safe can still be seen in Jacks old office in the distillery today.
The Making of Jack Daniel's
Jack Daniels is all about the detail. Jack's not-so-secret ingredient is the limestone spring water used in every single bottle. Purchasing Cave Spring Hollow and its surrounding land was an investment that cost Jack $2, 148, which at the time was a fortune. Cave Spring Hollow is Lynchburg's greatest natural resource and perfect for making whiskey as it contains no sediment, no impurities and the limestone imparts natural minerals into the water which contribute to the character of Jack Daniels. The limestone also removes the iron from the water which can be detrimental to whiskey making.
While starting a fire would get you in trouble at most jobs, it's an essential part of the process in creating Jack Daniels. Three days a week, three times a day they create five feet high stacks of sugar maple and douse them in raw unaged whiskey. The embers are then slowly mellowed into the Tennessee Whiskey. Distilled to 100 proof, whiskey charcoal mellows for 3-5 days dripping slowly through 10ft of hard sugar maple charcoal to give it the distinctive smoothness. The whiskey is then loaded into handcrafted whiskey barrels made by the Jack Daniels team themselves. The Whiskey goes into these colourless and raw and years later, comes out a beautiful amber, smooth and complex.
Fun Fact, Frank Sinatra loved JD so much, he was buried with a bottle!
So, is it Whiskey or Bourbon?
Jack Daniels is not Bourbon, according to the Jack Daniels website. Despite meeting all the legal requirements of Bourbon and tasting similar, the distillery claims the charcoal mellowing (Lincoln County Process) step classifies it as Tennessee Whiskey. However, the charcoal mellowing is not prohibited by the rules that govern Bourbon production. Confused? Read on…
There are strict rules that govern the production of Bourbon. Like Champagne and Cognac, Bourbon must meet specific requirements to be classified as such. These rules date back to the lift of prohibition in 1933 when American distillers were required to use the type classification that most closely described their products. If your Whiskey met the standards of Bourbon, you had to call it Bourbon.
As Tennessee didn't repeal its prohibition laws until 1937, it wasn't until 1941 when the first Jack Daniels Tennessee Whiskey was ready due to the production and ageing process. Jack Daniels has never called their drink Bourbon, so the distillery took steps to prevent the government from classifying it as such. When the distillery submitted their label for approval they used 'Tennessee Whiskey'. This began a series of negotiations between the government and the Motlow family (who took over the distillery post Jacks Death) which ended with laboratory tests and the conclusion that Jack Daniel's Tennessee Whiskey had 'neither the characteristics of Bourbon nor rye Whiskey but is rather a distinctive product'. The decision was laid out in an official letter below: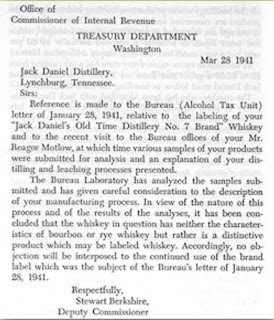 Despite this, many still argue that JD is Bourbon which earned it the moniker 'Bourbon in all but name'. Whatever your preference to call it, there's no doubt it's delicious.
Shop GoodDrops range of Jack and leave your thoughts on which camp you sit in – Whiskey or Bourbon? For more information on the history of bourbon check out our bourbon blog.