Please Note: We are unable to deliver to PO Boxes or Parcel Lockers and other postal delivery types. (full list below)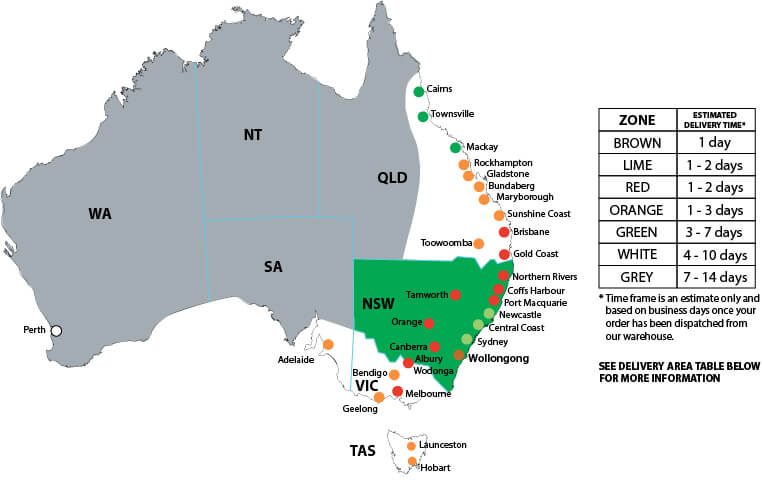 DELIVERY AREAS
The below time frames are an estimate only and based on business days once your order has been dispatched from our warehouse (this does not include processing time).
Delivery of alcohol into dry zones is restricted and we are unable to deliver into these areas. Please refer to excluded postcodes by state below.
Note: Locations may be added or modified from time to time.
STATE

ZONE

LOCATIONS

TME FRAME

COST PER ORDER

NSW

BROWN

LIME

RED

ORANGE

GREEN

WOLLONGONG, PORT KEMBLA, KIAMA, PICTON, MITTAGONG, BOWRAL, NOWRA, ULLADULLA

SYDNEY, CENTRAL COAST, NEWCASTLE

NORTHERN RIVERS, COFFS HARBOUR, PORT MACQUARIE, ALBURY, TAMWORTH, ORANGE

SHOALHAVEN REGION, EUROBODALLA SHIRE, BEGA VALLEY SHIRE

REGIONAL/RURAL NSW

1

1-2

1-2

2-3

3-7

$9 FLAT RATE PER ORDER

ACT

RED

CANBERRA

1-2

$9 FLAT RATE PER ORDER

VIC

RED

ORANGE

WHITE

MELBOURNE, WODONGA

BENDIGO, GEELONG

REGIONAL/RURAL VIC

1-2

2-3

3-7

$9 FLAT RATE PER ORDER

QLD

RED

ORANGE

GREEN

WHITE

GREY

BRISBANE METRO

TOOWOOMBA METRO, ROCKHAMPTON, SUNSHINE COAST, MARYBOROUGH, GLADSTONE, BUNDABERG

MACKAY, CAIRNS, TOWNSVILLE

REGIONAL/RURAL QLD

RURAL QLD

WE DO NOT DELIVER TO THE FOLLOWING POSTCODES:4605,4606,4713,4816,4830,4871,4873,4874,4876,4892,4895

1-2

2-3

3-7

4-8

7-14

$15 FLAT RATE PER ORDER

SA

ORANGE

WHITE

GREY

ADELAIDE

REGIONAL/RURAL SA

RURAL SA

WE DO NOT DELIVER TO THE FOLLOWING POSTCODES: 5690, 5710, 5723, 5724

OTHER NON-DELIVERY AREAS: (APY) AṈANGU PITJANTJATJARA YANKUNYTJATJARA (Amata, Fregon, Indulkana, Irintata Homelands, Iwantja, Kalka, Kaltjiti Homelands, Kanpi, Mimili, Mintabie, Murputja, Nyapari, Pipalyatjara, Pukatja, Tjurma Homelands, Turkey Bore, Umuwa, Watarru, Watinuma, Yunyarinyi)

2-3

5-9

7-14

$15 FLAT RATE PER ORDER

TAS

ORANGE

WHITE

HOBART, LAUNCESTON

REGIONAL/RURAL TAS

3-5

5-10

$20 FLAT RATE PER ORDER

WA

WHITE

GREY

PERTH

REST OF WA. WE ARE NOW DELIVERING TO THE FOLLOWING POSTCODES: 6429,6430,6432,6442,6714,6720,6740,6743,6765

WE DO NOT DELIVER TO THE FOLLOWING POSTCODES: 6330,6431,6435 – 6438, 6440,6470,6635,6638 – 6640, 6642,6646,6710 – 6713, 6716,6718, 6721,6722,6725,6726,6728,6733,6751,6753,6754,6758,6760,6762,6770,6798

5-10

7-14

$20 FLAT RATE PER ORDER

NT

GREY

ALL NORTHERN TERRITORY

WE DO NOT DELIVER TO THE FOLLOWING POSTCODES: 0821 - 0827, 0852 - 0859, 0861 - 0869, 0873 – 0886

WE DO NOT DELIVER TO THE FOLLOWING AREAS WITHIN THIS POSTCODE:

0872: ALI CURUNG, CANTEEN CREEK, DOCKER RIVER, FINKE, HERMANNSBURG, IMANPA, PAPUNYA, PITJANTJATJARA HOMELANDS, SANTA TERESA, WILLOWRA, YUENDUMU

7-14

$20 FLAT RATE PER ORDER
Delivery Information Continued
Orders are dispatched Monday to Friday. Orders placed before 8am will be dispatched the same day (in the afternoon), otherwise we will dispatch the next business day. During peak periods or promotions, orders will be dispatched within 3 business days (Monday-Friday).
Please refer to the Delivery Timetable above for estimated delivery times, based on business days once your order has left the warehouse. Note this is an estimate only and we are unable to guarantee or provide a day of the week or time of day for delivery or give delivery instructions to the courier. At times, due to unforeseen circumstances, delivery may be longer than estimated due to courier or other delays outside of our control.
Each order may only be sent to one delivery address. If you need to send products to more than one delivery address please place a separate order for each delivery address.
Please ensure the delivery details in your online account or checkout page reflect your correct address to which you would like your order delivered.
From time to time your order may come from 2 different delivery partners or in multiple parcels.
If there is an issue with stock on your order, we will contact you via phone or email to notify you and resolve.
PLEASE NOTE: We are unable to deliver to PO Boxes, Parcel Locker/Collect or any of the below postal types;
CARE PO (Care of Post Office)

PMB (Private Mail Box)

RMB (Roadside Mail Bag/Box)

RSD (Roadside Delivery)

CMA (Community Mail Agent)

CPA (Community Postal Agent)

PRIVATE BAG

LOCKED BAG

MS (Mail Service)

CMB (Community Mail Bay)

RMS (Roadside Mail Service)
CHANGE OF DELIVERY ADDRESS
Once an order has been processed you are not able to change the delivery address. If urgent, please contact our Customer Service Team and if the order has not been shipped, we may be able to amend the delivery address if the order has not yet been collected. If the order has already been collected by the courier then you will need to contact the courier directly to see if a re-direction may be possible (this may incur a fee by the courier).
TRACKING
Once your order has been dispatched you will receive an automated email that will provide you with a tracking number. This number will be active within 24hrs of dispatch and can be tracked via the Fastway Couriers website www.fastway.com.au.
Please note: If you have multiple parcels a tracking number will be allocated for each but only the first parcel will be on the notification email. Please check your GoodDrop account to see if more than one tracking number has been allocated to your order.
If you live in a White or Grey zone, Fastway may pass your delivery onto a courier that services your area (known as on-forwarding). If you track your order via the Fastway website and it doesn't show any tracking other than being collected, then you can use your Fastway tracking number to further track your order via either of the below links depending on which agent they use. Please allow at least 1 day after dispatch for the information to show on to the sites.
https://online.toll.com.au/trackandtrace/
If your tracking number does not provide any data on either Fastway or TOLL website, it may have gone with another provider. Please contact us so we can obtain further tracking details.

AUTHORITY TO LEAVE
Due to the nature of our goods, we do not allow 'Authority To Leave' requests. If a request has been made at the time the order is placed, the request will be removed prior to shipping. If an Authority to Leave request is made directly with the courier post shipment, no claims are able to be made on the goods for lost or missing items at your nominated address. GoodDrop.com.au will not accept any liability for such claims.
If you are not at home at the time of delivery, an 'Article Awaiting' card will be left in your mailbox. This card will advise the next steps required to obtain delivery of your order. If you fail to make arrangements to obtain your goods from one of our delivery partners and the items are returned to our warehouse, you will be responsible for any charges incurred in re-delivering the products to you.
PLEASE NOTE: If you contact the courier and advise an authority to leave then we will not be held responsible for the condition of the goods once received or if the goods go missing.
PACKAGING

AND INSURANCE
All items are packed to a very high standard.
All items are insured during transit to cover damage or non-delivery.
If you receive any damaged goods, please contact us within 24 hours from delivery to arrange a refund, exchange or replacement.
HANDLING OF LARGE ITEMS
Please note that a full case of wine or spirits weighs more than 16kg and maximum weight per parcel can be up to 25kg. Therefore, we recommend that our customers take extra care when lifting deliveries.
If you are concerned at all about the weight, we suggest that you transfer the bottles one or two at a time.
WHY DO WE ASK FOR I.D?
Due to licensing laws you must be over 18 years of age in order to place and receive a delivery. Your order will not be left with persons under the age of 18 years (proof of age may be required) and our couriers will use their best endeavours to verify ID.
GoodDrop.com.au supports the responsible service of alcohol. It is against the law to sell or supply alcohol to, or to obtain alcohol on behalf of, a person under the age of 18 years. You can purchase GoodDrop.com.au's products online and have your order delivered to your home or office.
For further information regarding liquor licensing please refer to our Liability & Other Legal Stuff page.
We may ask you to provide additional details or require you to confirm your details to enable us to process any orders placed by you through the site.
INTERNATIONAL SHIPPING
We do not currently ship internationally.
CHRISTMAS & NEW YEAR DELIVERY TERMS AND CONDITIONS
To receive your delivery before Christmas and New Year, it is advisable to place your order well in advance of the recommended cut off dates and times (AEST). Please keep in mind at this time of year the order volume increases and may cause delays to regular dispatch time-frames and estimated delivery time-frames.
At the time of delivery, if you are not home, the courier will leave a calling card so you can organise re-delivery or pick up from your local courier depot or Post Office (if an AusPost agent has been used for on-forward areas).
In the unlikely event your purchase is faulty, damaged, lost in transit or breaches a consumer guarantee we will refund your money or exchange the product. We will do everything to ensure you receive the replacement in time for Christmas but are unable to guarantee due to the delivery cut off dates and courier delivery schedules.